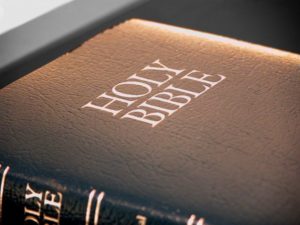 I blame Trump. Well, that's not entirely true. It's a good pat answer but it isn't really applicable in this instance. Part of it had to do with reading the Bible critically, asking questions, and not necessarily accepting the commonly accepted answers provided by my conservative evangelical tradition. I should probably back up enough to explain what I'm talking about in the first place.
I was saved at a young age in the Southern Baptist church and for decades my theology was standard, conservative fare. I believed in once saved always saved, took Genesis 1-11 literally, and thought communion was certainly an ordinance not knowing there was any other way of looking at it. Later on, I adopted a large dose of Calvinism into my beliefs and the legalism associated with that doctrine meshed nicely with my Christian mindset at the time and what I thought I knew.
There were periods where I was certainly more serious about my Christianity than at other times and there were years when I wouldn't take time to do any real Bible study or commit myself to a small group.
This on-again/off-again cycle continued until several years ago when, after getting back from my church's men's retreat, I decided to read the New Testament in 90 days. I found that you could get this knocked out by reading three chapters a day and, lo and behold, I managed it. Emboldened by this and not knowing any better, I tried the Discipleship Journal read the Bible in a year plan and got it done (it might've taken 14 months, but still …). I used an ESV reading plan to go through the Bible the following year.
During all this reading, I started to notice things that didn't really make much sense to me. For instance, I read about Saul meeting David in I Samuel 16, then read about him meeting David for the first time again in totally different circumstances in the next chapter. I generally do my readings early in the morning, so at first I wondered if my fuzzy brain hadn't processed something correctly. "Well, that's odd," I thought. And I went on without giving it to much additional thought at the time.
But stuff kept on piling up. Like, why is God trying to kill Moses in Exodus 4 after telling him to get back to Egypt and confront Pharaoh? It just didn't seem to compute. There are also several minor discrepancies between the Gospels. Were there two demoniacs among the tombs or just one? Did blind Baratmaeus have a buddy? How many angels were at Jesus's tomb? What day was Jesus crucified on? Why are there two different versions of Jesus's (or least Joseph's) lineage?
Some of these questions have good answers and some just don't. I was attending a solid men's Bible study at the time and got possible answers at that time, some of which made sense to me while others seemed like they were stretch in an effort to justify making everything in the Bible as literal as possible.
Another eye-opener for me had to do with the Apostle Paul (shocka) but perhaps not quite in the way you might think. Quite a bit of my theology nowadays comes from Andy Stanley and the Bible Project ("Well, that explains it," mutter the naysayers while they simultaneously do a Paris Hilton-worthy eyeroll) and during a Bible Project podcast Tim Mackie pointed out that in I Cor. 10:10 Paul attributed the deaths of the Israelites in the wilderness "grumbling" passages "the destroyer" or "the destroying angel". Mackie goes on to say that Paul's comment is based on a common belief among Pharisees at the time that God had a destroying angel that did his dirty work.
The thing is this isn't what the Bible says in the grumbling passages. They talk about plagues, the earth opening up, fire from God, etc. but (someone correct me if I'm wrong) none of them mention a "destroyer", as such. BTW, the grumbling passages are as follows:
Numbers 11:31-34 God provides quail for the Israelites, then kills them
Numbers 12 Miriam and Aaron rebel
Numbers 14:36-38 God kills all the scouts except Joshua and Caleb
Numbers 16:31-36 Korah's rebellion
Numbers 16:41-50 the people rebel after Korah's death
Numbers 21:4-9 fiery serpents
Numbers 25:1-9 the people worship Baal
Why is this a big deal? Because Paul's view of the Scripture in this instance is informed by his cultural tradition at that time. This isn't Scripture interpreting Scripture, the approach I was always taught to take. This is an example of a Biblical author's cultural and historical context influencing his view on existing Scripture and that view finding its way into the Bible. I didn't know it at the time but this would open a huge door (or Pandaora's box, depending on how you want to look at it) further down the road. (Pete Enns had a similar experience that he describes here. Scroll down to "The Rock Was Christ" for a specific example that Enns mentions in a later podcast as deeply affecting him.)
Once I discovered Ancient Near East cosmology was an actual thing, I began to look at the creation story quite differently. I had figured out that Genesis 2 couldn't be a more detailed commentary on Genesis 1 because the creation sequence was different. Turns out that creation in Genesis 1 is a reflection of how everyone in that geographic area at that time thought the Earth, skies, and sea were structured. That whole business with the firmament finally makes sense. Genesis 2 is most likely a second version of the creation account, IMHO.
However, after all of these changes in how I read the Bible, I still believe that there is a real live God who created the world, created humanity, and sent his Son to save us from ourselves. I'm no longer as certain as I was about the details of Scripture but one thing I know is that these finer points don't matter. The Bible is still the primary way God chose to communicate with us and it still points to Jesus.
Oh yeah, about that Trump thing – I was a registered Republican for decades until Trump was elected. I knew I'd feel compelled to defend the yahoo if I voted for him so I voted for Evan McMullen, then registered as an Independent a few days after Trump won the general. It's very freeing to no longer be obligated to making excuses for a Republican president. Likewise, it's very freeing not having to jump through cognitive hoops to rationalize the Bible I was raised with. 'Tis the season for changes.