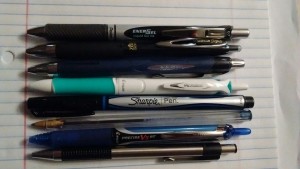 And now for something completely random –
Last week my old faithful office pen, a Bic Atlantis, gave up the ghost and went to that great recycling dumpster in the sky. Do I do the obvious (also the simpler, cheaper) route and just get another Atlantis? Of course not! I decided I needed to go on a quest and see what else is out there besides the two dozen dried up old Bic Stics in my cabinet.
A quick Google search turned up this article, so I took the reviewers' advice and picked up some Uniball Jetstream fine (.7 mm) tips. The ink in this pen flows so easily it was a little freaky at first. It's nice, lays down a nice clear line (no feathering or bleeding through the paper), and is starting to grow on me but writing with it is so smooth I have to slow down to feel like I have control of the pen.
Next up was the Pilot Acroball fine (.7 mm) tip. It didn't feel as slippery as the Jetstream and still wrote a nice, clean line but the padded grip's contour is in the wrong place for me; I was constantly readjusting my fingers on the pen trying to find a grip that felt natural.
Third on the list was the Zebra F-301 fine (.7) tip. This is one short, thin pen. It seems durable with the stainless steel barrel and is easy to write fast with (did I mention my handwriting sucks?) but it's so skinny it just feels weird in my hand. And the ink is noticeably lighter and less stark than the two pens I tried earlier.
I picked up a pack of Pentel Energels in .7 mm medium tip yesterday. These things are hands down my least favorite pen in my stack. They just belch out huge streams of ink. The feel is mushy and hard to control. I might like these better with .5 mm tip but the medium tip model is just not my cup of meat.
I tried a few of my wife's pens as well. The old school Bic Stic was typically hard to get started. Her Pilot Precise V5 was okay but didn't really move me one way or another. The fine tip Sharpie Pen just feels too much like an old fashioned felt tip and I never liked those things.
But then, suddenly – Eureka! I found a two-pack of Uniball Signo 207 .5 mm micro tips at one of my friendly neighborhood Walmarts. Since the Signo 207s are gel pens, I wanted to go with the .5 mm tip instead of the .7 due to my bad experience with the Energels. The pen lays down a nice, clean, bold line with a feel that's easy to control. (It's number three in my eyeball comparison of which pens lays down the thickest, clearest line.) The slightly cushioned grip area doesn't have any contour, so I can hold the pen however I feel comfortable. It fits my hand well and I don't feel like I have to work to make the pen write what I want where I want to put it.
So, there you have it. Way more thought put into a subject that I never really paid much attention to before and I'm adopting the Signo 207 as my new pen of choice. I would suggest that, if you're fed up with your cheap ballpoint clumping up and spitting out ugly globs of ink in the middle of your notes, you lay down a few dollars and try a little nicer grade pen. There are worse things to spend money on.
Below are samples of my gnarly handwriting with the pens mentioned above. My loving spouse ranked them in order of which one laid down the thickest ink. My scribbles in the right margin indicate whether the pen is gel, hybrid ballpoint, felt tip, ballpoint, or roller ball.